Video Animation, Guide and Worksheets on Police Community Relations for Elementary Grades
LAW-UNS-003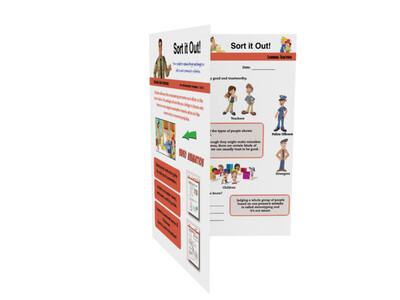 This package provides you with a bridge to discuss with elementary students, why people sometimes have negative perceptions of the police.
Children will first watch the storyboard animation and will be able to reflect and discuss on the role of police in society. This package will also give you a bridge to address negative perceptions of police.
The guide and worksheets were designed for grades 1-6. Looking for a similar product for grades 7-12? Check-out our "Police Incidents - Use of Force" discussion guides.
Watch the video animation!
Step-by-step instruction guide for a fail-proof presentation.
The guide was to help even the most novice policeman and/or educator present an effective leson on police and negatives perception.
I'm confident you're students will truly enjoy the animation and the superb worksheets. Designed for law-enforcement officers, the guide can effectively be used as a lesson plan for educators. Whether you are assisting a school resource officer or want to discuss police community relations with young students, this will be a terrific resource on a very relevant social topic!

...Jean-Yves
1 Downloadable Mpeg Video Animation "Sort it Out" 2 ½ minutes in length
1 Accompanying discussion PDF booklet which includes
6 pages of step-by-step instructions for the presenter.
2 "Ice-Breaker" sheets to introduce the presenting policeman and the other to introduce his/her agency
2 Worksheets for Grades 1-2-3
2 Worksheets for Grades 4-5-6
1 fun activity sheets for grades 1-2-3
1 fun activity sheets for grades 4-5-6
2 Pages presenting "Sort it Out" as an article for kids
3 pages of answer keys
Here is a peak at the guide:
Main Presentation Step 1
Ask the kids if they know why the police are involved in the community. Validate and/or comment on the answers.
Tell the kids they will be watching an animated video that will make them think about why people like or dislike the police.
Play the animation, "Sort it Out."
Ask the kids if they have ever had thoughts or questions like Clayton did.
Alternatively, you can read "Sort it Out" aloud or distribute the two page article to students.
Validate and/or comment on the answers.
Play our video "Sort it Out"
Activity Sheets
Distribute the activity sheets of your choosing. Sheets are targeted for grades 1-3 or grades 4-6. You can check the bottom of the sheet to ensure that you are using the correct level. Looking for relevant product for grades 7-12? Check out our "Police Incidents" discussion guides.
There are two activity sheet options for each level.
Activity sheet #1 - For Grades 1-2-3
Teaching Tips: You should read the questions in the break-out boxes to the kids. The questions are fun for kids, but there is a lot of text. Some of the younger kids may need help reading it.
Includes Ice-breaker sheets, worksheets, and fun puzzles.
Base Price - Agency serving up to 500,000 of population (0)
Serving Population between 500,000 to 1,000,000 (70)
Serving Population between 1,000,001 to 2,000 (130)