Police in Schools - Educational Guides on The School Resource Officer Program
LAW-DS213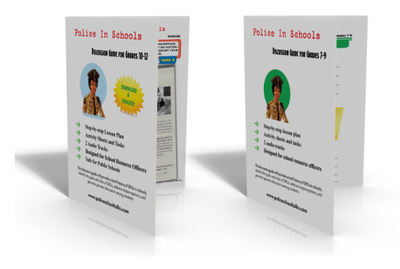 Two discussion guides will provide a brief history of School Resource Officer (SRO) in schools, identify the goals and roles of SROs, address misperceptions, and generate genuine discussion among students.
Watch a short video on "Police in Schools"
The content of the Discussion Guides covers several lessons and response activities on the three main topics of:
• The history of the SRO program
• Roles and goals of SROs in schools
• The effect of SROs on school safety and climate
with an emphasis on the latter two points. It is academically rigorous and aligns with educational standards in the areas of Reading, Writing, Speaking and Listening, and Social Studies. The lessons and responses can be conducted over the course of a single week (as a mini-unit) or can be spread out over a longer period (such as one lesson per week for several weeks).
"Police in Schools"
You get both Discussion Guides with this resource!
Grades 7-8-9 & Grades 10-11-12
Students will fully engage with the content through use of primary-source documents, authentic learning applications, audio monologues, interactive group tasks, individual written responses, and genuine debate and discussion.

Look at a page from the Discussion Guide
Sample the Audio Monologues
[audio mp3="http://policeschooltalks.com/wp-content/uploads/2013/11/Sampler.mp3"][/audio]
Included with your Discussion Guides:
Introduction - Discussion
Intro (1 page)
Step-by-step unit/guide (6 pages)
Document 1 - A Timeline of the School Resource Officer (1 page)
Document 2 - Safe Schools Officers Network (2 pages)
Document 3 - A Safe Learning Environment for Everyone (2 pages - 5 more pages appendix in the Grades 7-8-9 Guide)
Document 4 - Executive Summary from the Toronto Schools SRO Program 2011 Follow-Up Evaluation (3 pages)
Student Engagement
Task 1 - School Impact Project 2000 (7 pages)
Task 2 - (Grades 7-8-9) A Day in the Life of an SRO (2 pages)
Task 2 - (Grades 10-11-12) Help Wanted (2 pages)
Task 3 - Letter from Mrs. Thornton (4 pages)
Task 4 - Letter Informing Parent(s) (1 page)
Sample this engaging educational package!
Base Price - Agency serving up to 500,000 of population (0)
Serving Population between 500,000 to 1,000,000 (65)
Serving Population between 1,000,000 and more! (130)