Lesson Plan and Worksheets on Cyberbullying Grades 1-2-3
Law-EZ113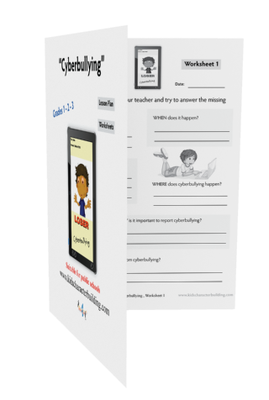 Finally! An affordable school resource at reasonable price for police agencies!
With this step-by-step cyberbullying lesson pack, everything is done and ready so you can deliver a top notch lesson with minimum preparation.
2 Worksheets with nice graphics and page layout that will appeal to kids and retain their attention. Optimized for black and white photocopying.
Group exercise sheet with scenarios ready for you to distribute.
Answer keys included; you don't have to guess the answers.
Preview our cyberbullying lesson plan.
Perfect for school resource officers.
Cyberbullying has taken schoolyard bullying to a new, dangerous, and frightening level. Many police forces have been in the news with reports of unfortunate children and teenagers who have been victims.
According to current estimates more than half of adolescents have been bullied online. Half of these children do not tell their parents about the cyberbullying.
As a school resource officer you are in a prime position to take preemptive action for their safety's sake! Can you afford not to?
Please be advise that this product is available for purchase to teachers and schools under a different licensing scheme.
As you well know, more often than not, the police are highly criticized for their lack of involvement. Don't let that be the truth for your agency.
This easy to implement lesson takes preparation stress out of your busy work life. You can download the pdf right now and be at your local elementary school educating on cyberbullying later today!
Look at one of the cyberbullying worksheets
This lesson plan and worksheets have been used by many elementary school teachers in public schools.
This is a to the point, practical lesson ready to go for you!.
...Jean-Yves
Article by Trax4Life Media Copyright © 2017. All rights reserved.
Still have question about our character education products? Email us at jymarsolais@policeschooltalks.com
Base Price - Agency serving up to 500,000 of population (0)
Serving Population between 500,000 to 1,000,000 (35)
Serving Population between 1,000,001 and more! (65)