Fool's Peak - Internet Safety Educational Package
LAW-OEX04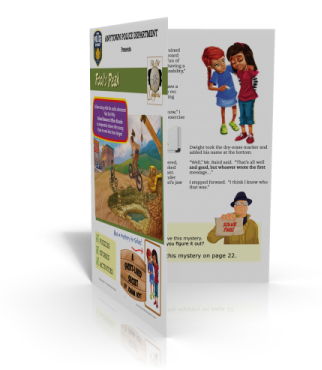 Would you like to hear why this school resource officer chased a nine year old boy on a broken bicycle and risk his life while doing so?
Preview the Audio Adventure Fool`s Peak here
Listen to some samplers of the audio adventure
[audio width="320" src="http://policeschooltalks.com/wp-content/uploads/2014/04/FinalFoolsPeakSampler.mp3" ][/audio]
(I know your students would love to hear it too!)
Do more than just a police presentation, take the kids on an adventure!
My ready-to-go law-enforcement resources are ready-to-go will make your agency look professional, provide educators with the right tools to tackle your topics and prove beyond any doubt to your community that your agency is involved, pro-active and engaged with their kids.
I know, you have never seen anything like it before. I was a law-enforcement long enough to know this stuff is impossible to find. That's why I produced it.
A highly entertaining character education audio adventure on internet safety. Over 25 minutes of attention grabbing entertainment that will retain your students' attention while you relax.
Take home activity sheets that clearly explain to parents what you've been teaching and get them involved. Once again, it's all done for you.
The magazine has articles, puzzles and interactive pages that will keep your children busy while they listen to the audio story. Reinforce the concepts learned in the audio drama.
Followed by 6 graphically enhanced, educator-designed activity sheets created to teach kids how to apply basic internet safety into their lives.
Download the audio adventure MP3s, the PDF magazine and the activity sheets right now. Transfer the adventures onto the classroom portable MP3 player or play it on the school computer.
Suitable for public school and religious schools. Respectful of both conservative and liberal point of views. Help your students learn internet safety without a religious undercurrent.
My audio adventures will keep a healthy level of suspense and mild fiction without crossing into "darkness" or "fearfulness".
Eco-friendly! Print only the pages you want. Designed for home printing in mind, keeping a good balance of color and yet rendering captivating black and white printing as well.
What are "The Old Compass" audio adventures?
The Old Compass audio adventures, magazines and activity sheets are character building adventures that will help kids develop character strength, critical thinking and have them wanting more! The video below was produced for the family edition of The Old Compass, it will introduce you to what it can offer.
Summary of the story "Fool's Peak"
In the story Fool's Peak, we meet a boy named Ryan, who likes internet gaming. We learn that his parents allow him to play, as long as he follows some rules, for example, he must finish all his chores first, and he must keep the door to his bedroom open.All his friends have moved beyond it and he's frustrated.
Ryan receives a message from someone on the gaming site who says he can help him get to the next level. Ryan hesitates.
Although Ryan knows he should not give out any personal information over the Internet, the stranger tricks him into revealing what town he lives in and what school he goes to. The stranger tells Ryan his parents are taking him to the same cosplay convention Ryan is going to, and that he can give him a very cool "light sword" to go with his character's costume. Ryan, excited by the prospect of getting the sword and impressing his friends, agrees to meet the stranger after school.
Meanwhile, the school resource officer, Ricardo, has been warned that a bad guy has been making contact with a student from one of his schools. Also, Ryan's parents get suspicious when Ryan says he wants his dad to meet a new friend after the convention. His parents decided to use their security software to check on Ryan's Internet communications.
School Resource Officer Ricardo talks to one of Ryan's friends. He learns where Ryan has agreed to meet the stranger, and takes off on a borrowed bicycle to follow him. Officer Ricardo soon finds out the brakes on the bike don't work, and he ends up trying to jump Fool`s Peak in order to save Ryan.
The Educational & Professional package also get my ``Character Detective`` activity sheets
This is a set of activity sheets designed to assist you or the educator to focus on internet safety. Created to encourage critical thinking, these are a little focused and academic than the activity sheets in our magazine. Always ready to go and with the top-notch graphics. The "Detective Booklet". There are 8 pages total in this booklet; 2 pages are summary of the story and the remainders are activity sheets.
[easy-pricing-table id="1386"]
Article by Trax4Life Media Copyright © 2017. All rights reserved.
Base Price - Agency serving up to 500,000 of population (0)
Serving Population between 500,000 to 1,000,000 (85)
Serving Population between 1,000,001 or more! (160)